It's been a fun summer month!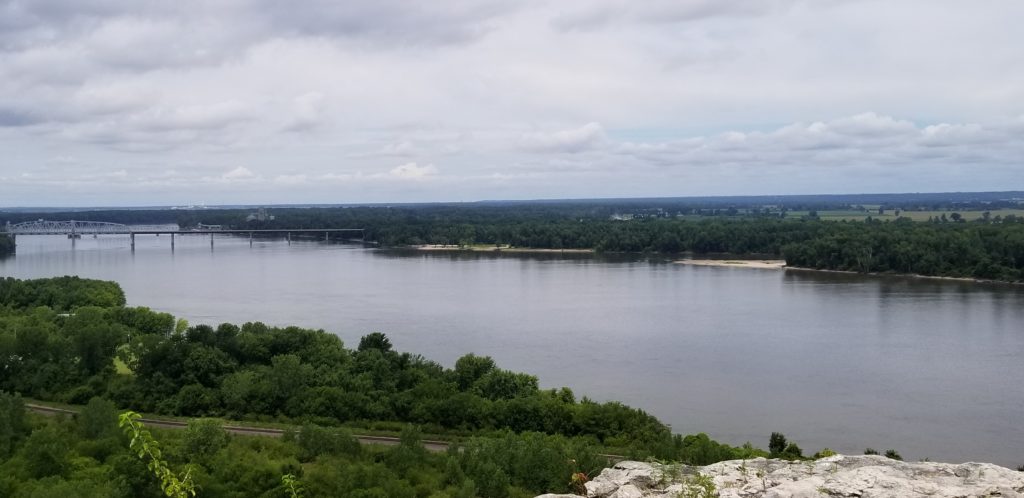 I think it's important to look back on the month and count your blessings on what's been happening. And what we've learned to keep us moving to a place of health in this phase of empty nest. Midlife can s
ound so depressing, but really it's not. I'm realizing that, more than ever, this is the perfect time for me to be me and do what I want for me.
Disclosure: Please note that I might earn a commision if you buy something from the links to merchants I mention in this post. There is zero cost to you. I only recommend stuff I am personally familiar with and find useful and valuable.
Anyway, today I'm sharing the cool stuff I've been scouting out and the fun things I've been doing.
July is a hot one here in the middle of Missouri. Temps have been in the 90s with heat indices above 100. Which made it perfect for spending time at the pool and the lake. And that's exactly what we've been doing!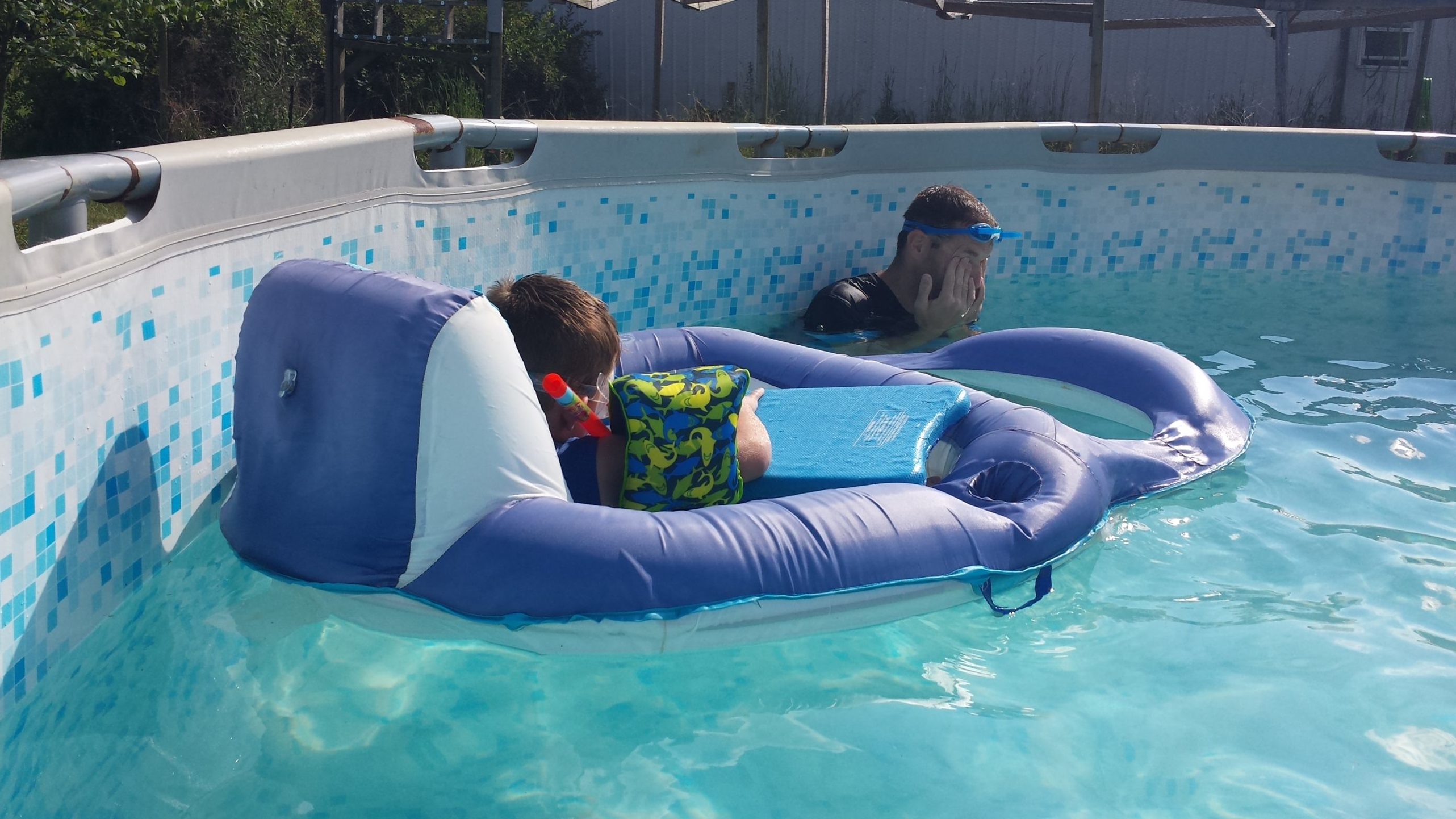 When the youngest moved out (he's the one who lived with us with his fiancee and three kids for a few years), we agreed to get together one day a week, usually a Sunday.  The get togethers have been focused on barbecues and swimming.
On the first swimming session, I was observing outside the pool. I managed to get soaked anyway. Shooting water through pool noodles goes a long way. Note to self: Don't stand by the side of the pool if you don't want to get wet!!
These are the pool noodles I purchased this year. So far they are holding up good to all the use they're getting.
With a few birthday bashes thrown in. One of those started with a water gun fight with the grandkids (all 5 of them) taking on the adults. You wouldn't believe how good a shot a two year can be!
Lesson learned: Take the time to Relax, Reconnect with yourself and your family and just Live in the moment. Laugh, act like a kid and enjoy yourself. Treasure the moments when the family is all together.
Another adventure was to take the grandkids swimming at Long Branch Lake in Macon, Missouri!
The 7 year old is just learning to swim and fell in love with the waves at the beach. The 4 year old and two year old were more interested in making sand castles. They all had fun finding rocks under the water in the shallow area.
Afterwards, we treated them to a meal at McDonald's. Which turned into a meltdown of the four year old. But with a little coaxing, a lot of patience and time together outside cooling her temper, everything turned out fine.
Lesson learned:  All those years raising my own kids brought a new level of Patience I didn't realize I had. Kids will be kids no matter what age or era it is. And McDonald's hot fudge sundaes disappear fast when everyone wants to eat yours!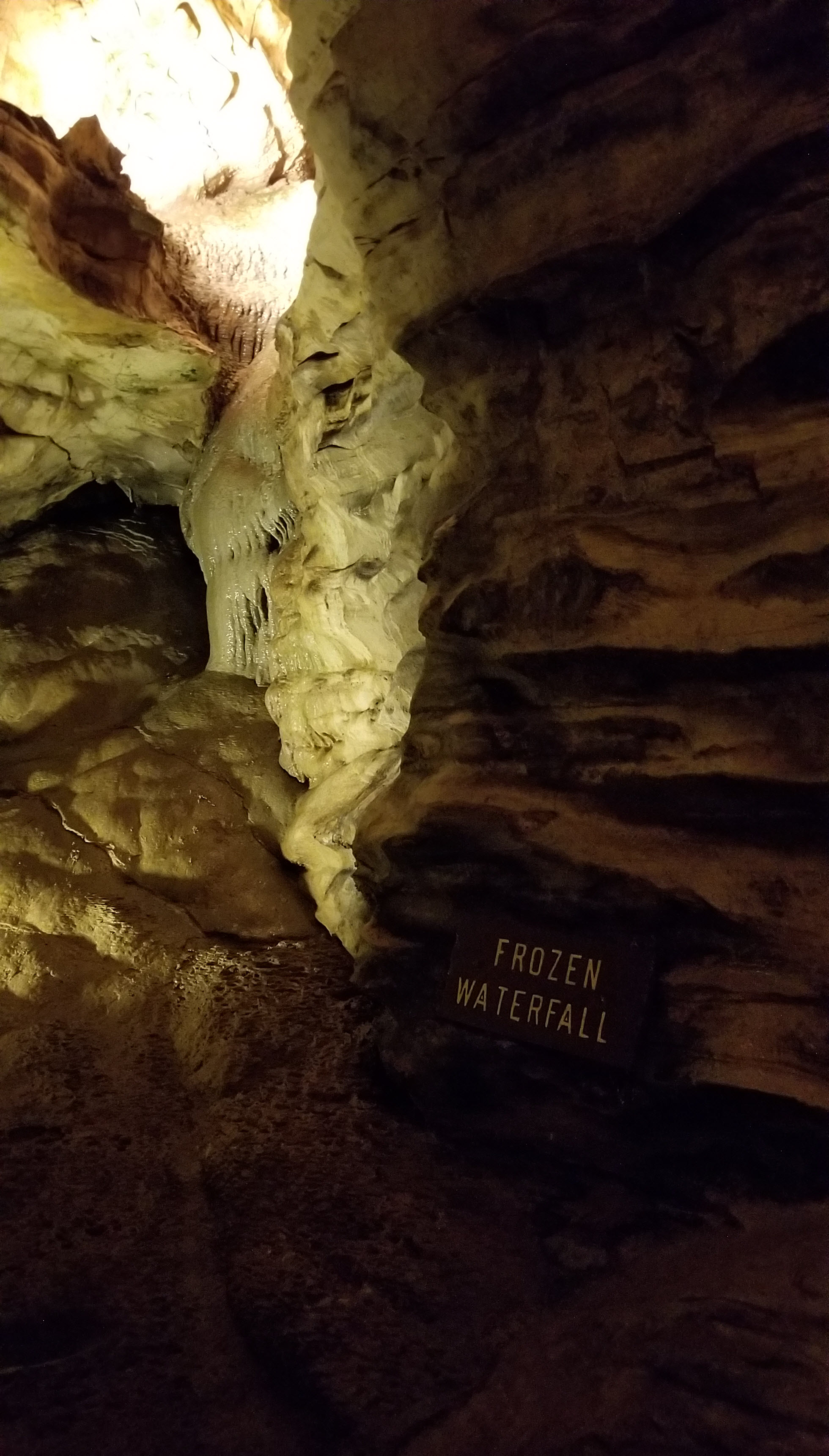 Another activity we did that helped keep us cool was visited a local cave. It's about 90 minutes away. I've lived in Missouri since I was 4 years old and had never been to Mark Twain Cave in Hannibal Missouri. It was fun. Caving is a hobby that I enjoy with my Hubby. We've been to several in Missouri, Tennessee and an old mine in Idaho.
We took one set of grandkids with us on this trip as well. The oldest is fascinated with rocks and science. She had a blast. Of course the kids had to feel everything, as you can see in this photo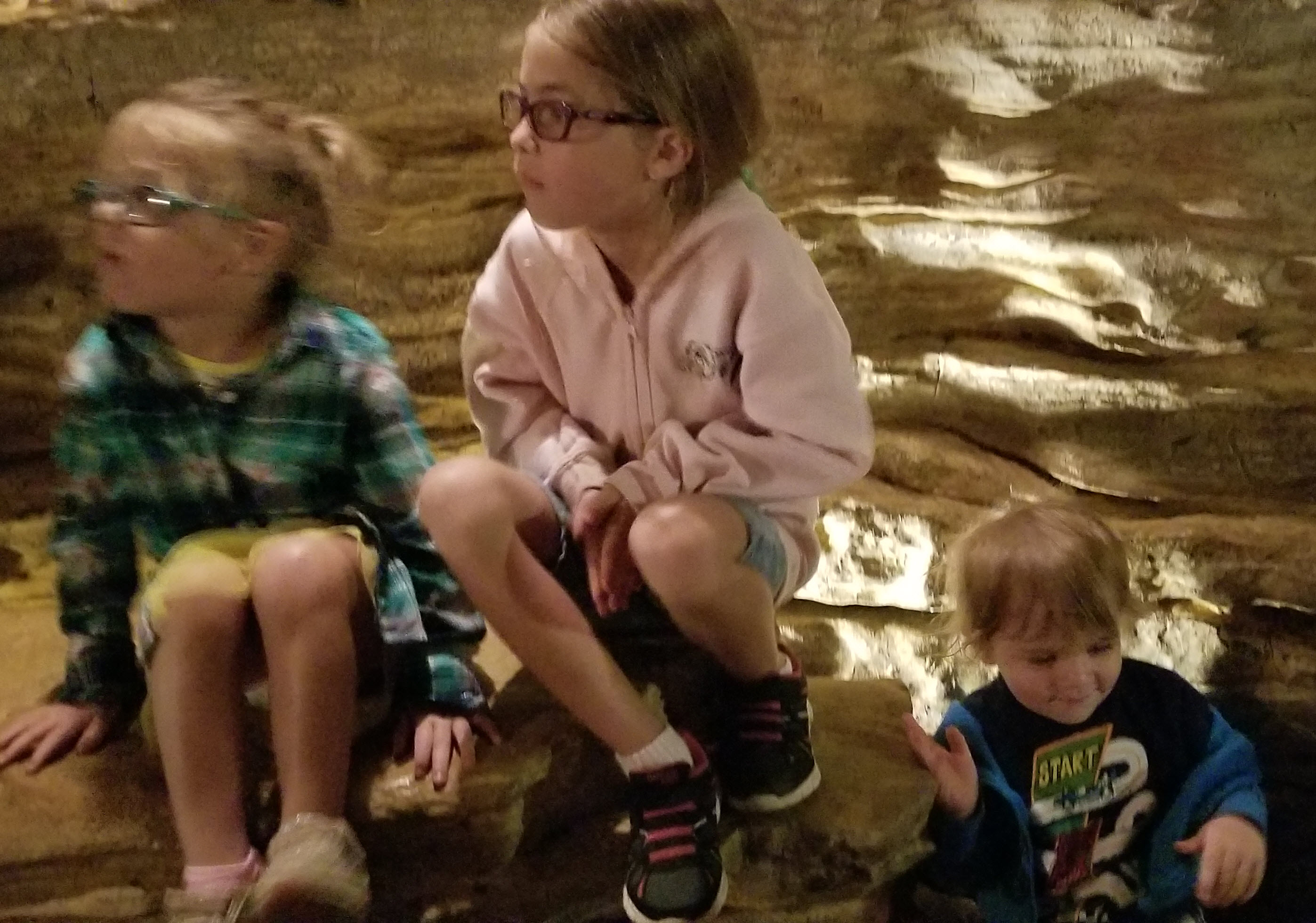 and this one, where the four year old accidentally knocked off one of the letters from the cave sign.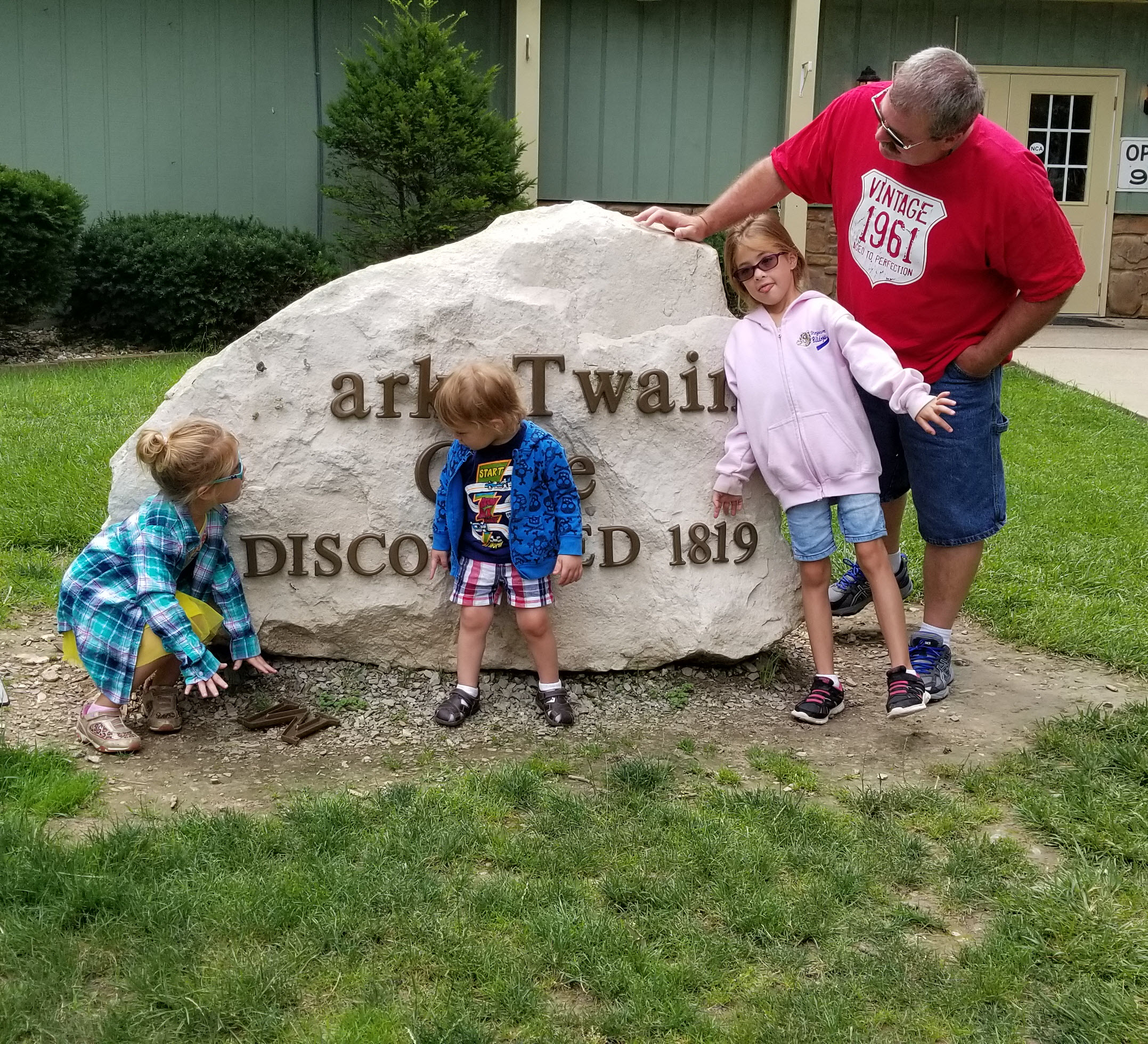 I love exploring caves for several reasons. For one, it's a steady temperature year round. And when it's 102 degrees Fahrenheit outside, 52 degrees Farenheiht feels heavenly.
Another thing is the exercise I get from all the walking, the terrain often going up and down. I logged my steps into  myfitnesspal app. This cave had designated walking paths, as most National and public caves do. Still, the tour lasted over an hour so that's a pretty good workout!
Lesson learned: Simple adventures can give you lots of exercise and plenty of aching muscles!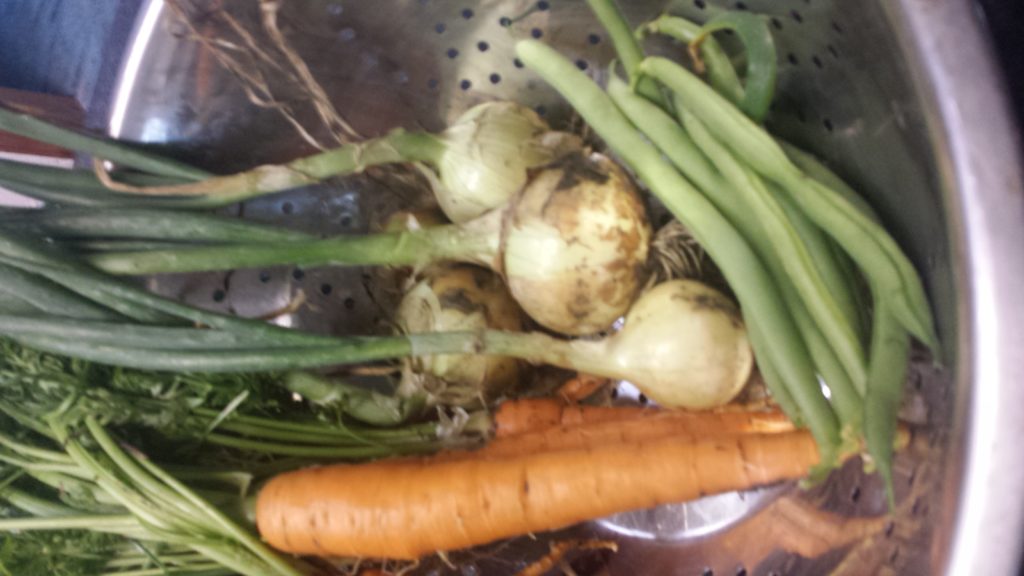 My garden finally started producing this month. With all the rain we had in June things were slow to start producing. My tomatoes had some blossom end rot and the leaves didn't look too healthy for a while. But they came out of it and I've been enjoying fresh tomatoes, peppers, green beans, carrots, lettuce and onions. Makes for a divine tasting fresh salad!
Lesson learned: fresh is always best! No matter what eating style you're on! and the workout I get from digging the soil, planting the seeds, pulling weeds and harvesting the fruit goes a long way in appreciating the food.
July has been a month filled with fun and laughter, sweat and exercise, getting to know my kids as adult parents, and good times.
Joy.
Fun.
Laughter.
Reflection.
Peace.
What have you found joy in this month? I loved to see what brings you happiness. Share your pictures and stories in the comments or head over to the Facebook group and share them.