I love food. I like to cook it. I love the smell of most of it. I love the taste of it. I love the way it comforts me.
I love FOOD!
That's one of the reasons I gained over 50 pounds in the last 10 years. And I'm miserable.
One of the reasons I began sharing on this site was my quest to get healthy. I've been doing a lot of emotional healing that was needed (I've had bouts of depression, loss of several family members and past issues coming up).
And stress is a big part of that emotional eating. In the past few years I've had a lot of financial and emotional stress from taking care of my mother full time. Maybe that's not the case for you. It could be that you have financial stress from your kids going off to college. Whatever the cause of the emotional eating getting control of that part is an important part of losing weight and keeping it off.
And a lot of my extra weight came from that emotional eating. I still have a ways to go on the emotional side,  but as I'm healing emotionally, I have an urgent urge to get my body in shape as well.
I mean, why go to all the trouble to heal emotionally, if I still feel miserable because of my weight?  
Being healthy now is more important than ever. With an empty nest I am free to pursue all those things I've put off. I'm ready to
hike the mountains and national forests
cruise on a motorcycle across country
swim in public
dance in public (without getting laughed at as my jiggly belly rolls and plump hips bounce!)
feel sexy for my hubby once again,
and a whole lot more.
But to do these things I have to get control over how and what I eat.
I don't want to be the skinny little thing I was when I first got married. I just want to be healthy (and toned, which will come from getting regular exercise).
The first thing I have to change is my snacking habit. Give me a big ole' bowl of ice cream or 2 to 3 slices of cheesecake or a half dozen cookies and I'm in heaven. But you know what? These are about the least healthiest foods I can snack on.
Today I took the leap and threw out all my sugary snacks, crackers and bread. Those are my downfall foods.  I didn't have to worry about giving up soda since I did that years ago.
Here is what I fixed for an afternoon snack: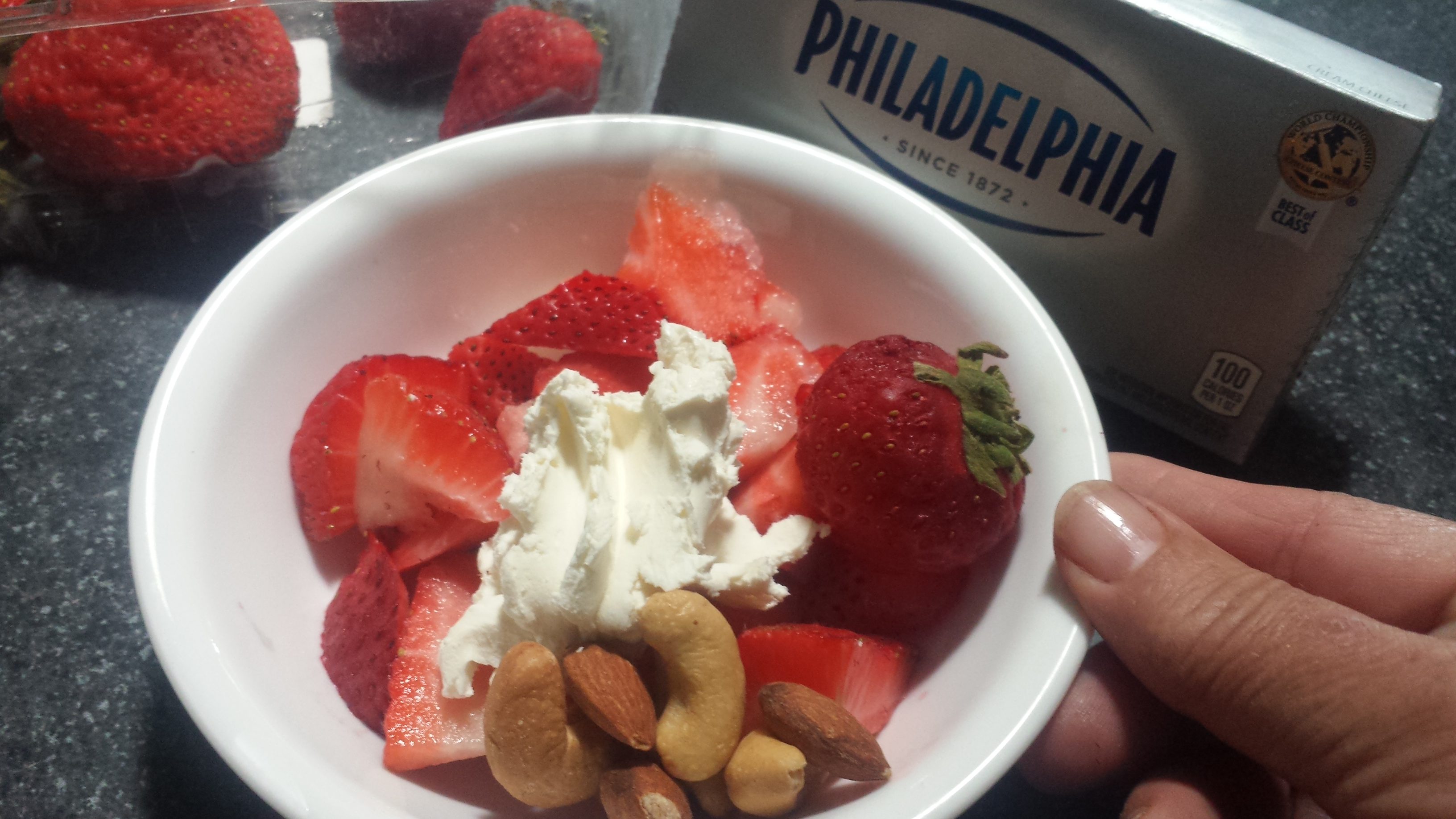 It's  two large, fresh strawberries sliced with 2 tablespoons of cream cheese ( I softened and whipped it some) and a small handfull of nuts.  DELICIOUS. Tasted like cheesecake! YUM!
Another thing I did was replace my large bowls and plates with smaller ones for better portion control. My old ones were a 28 ounce size–way to deep for the portion size I should be eating.
These are Corelle brand. I've had this brand of dishes for everyday use for over 30 years now and they old up well. The new size I ordered is a 10 ounce dessert bowl. Of course they come in lots of patterns and colors besides white ;p .
According to the Dietary Guidelines for Americans (source), people over 50 should choose foods from the following groups:
Fruits—1½ to 2½ cups
Basically 16 grapes or a small peach.
Vegetables—2 to 3½ cups
Spread them throughout the day
Grains—5 to 10 ounces
A half cup of cooked rice or pasta, slice of whole grain bread.
Protein foods—5 to 7 ounces
Fish, poultry, lean meat, one egg or one fourth cup of cooked beans. Nusts, seeds and peanut butter are also proteins.
Dairy foods—3 cups of fat-free or low-fat milk
One cup of plain yogurt or 1½ ounces of cheese
Oils—5 to 8 teaspoons
Olives, nuts, and avocados are rich in good for you oils.
Hmmm don't see sugary snacks on the list. 🙂 
Now that I know what I should be having I need to figure out some good snacks that won't get boring quickly.
Here are some suggestions I found:
1 stick of Sargento Natural String Cheese along with1/2 cup blueberries or any berry in season. This creamy cheese is packed with protein and calcium while the berries are loaded with antioxidants without adding sugary calories.
Make yourself a healthy smoothie if you're craving something sweet. Blend together 1 frozen banana, 1 cup frozen spinach, plain Greek yogurt and unsweetened almond milk. The sweetness comes from the banana. The spinach is filled with fiber while the yogurt adds protein.
A handful of nuts, baby carrots and hummus are a great healthy snack. Nuts are a healthy fat but are loaded with calories so only a small handful is should be eaten.
*I sometimes recommend and endorse products that I am an affiliate for.  When you click on these links and purchase something I may recieve a referral commission. Don't worry, you won't pay a higher price, and in some cases may even receive a discount through my link.
No matter what the reason is you want to lose weight, figuring out what the emotional cause for indulging is an important part of the process. There are a lot of fun ways to include snacks in your day that don't involve sugar, salt and processed foods.
What's your favorite healthy snack? Let me know in the comments below.
Hugs 🙂
Carol
P.S. Staying motivated to be healthy is a full time job in itself. Connecting with friends can help you stay the course. One good way to get encouragement is to join my Facebook group.