Holidays are often celebrated with family spending the day together, exchanging gifts or eating a special meal. What happens though, when you become the owner of an empty nest?
How do the holidays change from the way they were once celebrated?
How can holiday get togethers evolve when you have an empty nest?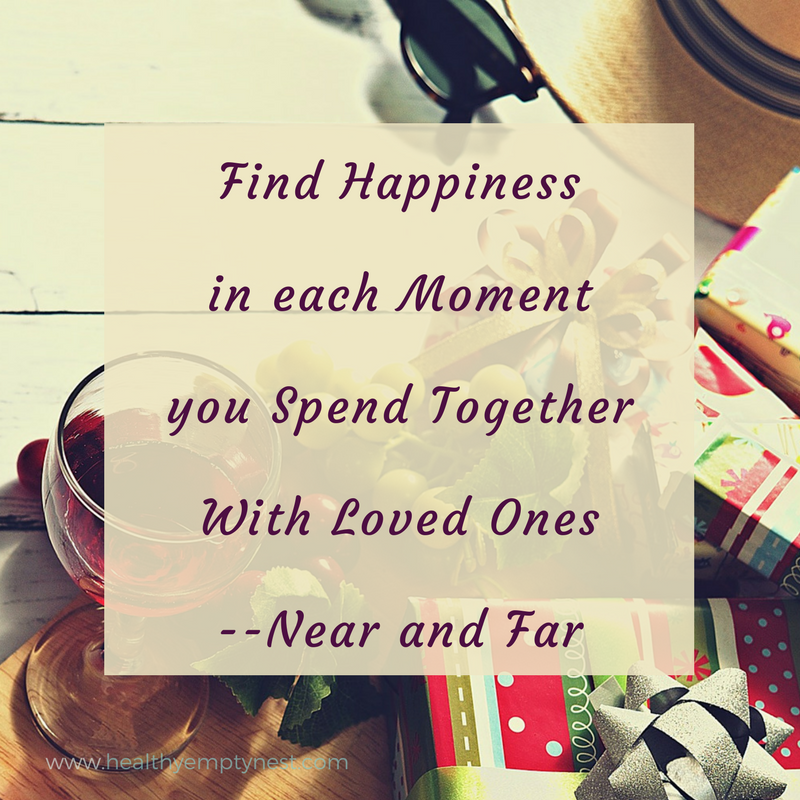 When my kids were younger we'd gather at Thanksgiving to have the traditional Holiday dinner complete with all the fixings.
(Disclaimer, some of the products I recommend I get reimbursed from through the company selling them such as Amazon.com)
At Christmas, we'd decorate our home with lights and greenery and the kids would excitedly rush to surround the tree to find it overflowing gifts.
At the Easter celebration, after stuffing ourselves, we'd all head outside, no matter the weather, to search for those elusive hidden eggs that didn't make it into the kids' baskets.
Even as the kids grew older, about the time they turned into mid-teenagers, many of the traditions continued like the meals and getting together with family.
Adult Kids and Changes
Now that I have adult children, two of which have kids of their own, the struggle has become not if we will gather for the traditional dinner, but when. They want to spend their morning creating new traditions with their kids and spend time with the other set of parents.
The third son lives over 1500 miles away making a one day trip nearly impossible for either him or me.
It can be depressing not having your kids around to share in the joy of decorating for the holidays.
I know at first I didn't want to decorate the house for Halloween or put up the lights for Christmas. But that only depressed me even more. I've always loved to decorate my home and by not decorating it just seemed like I had lost everything that brought me joy.
I've started decorat
ing again, maybe not as much as when the kids were younger but enough to get me in the Holiday spirit. A beautiful wreath hung on the door, a small tree with lights and precious ornaments, or a few fall flowers and pumpkins by the front door.
And with young grandkids visiting me at some point during the holiday, I didn't want to deprive them of the fun of decorating. It's been fun involving them in the process. You'd be surprised that a 7 year old can be very opinionated about where the lights should be hung, let me tell you :)!
Evolving and Thriving
There are ways you can enjoy the holidays and still let your adult kids create their own traditions as well.
Be flexible. Get together for a meal on a different day than the traditional holiday. Instead of exchanging gifts on Christmas day, do it on Christmas eve or wait until the following weekend for the fun. This can be a fun way to extend the anticipation of seeing everyone. Or opt to have all your holidays at once, say one day in the fall when everyone can get together. Serve your traditional Thanksgiving meal and have a small gift exchange if that's what you normally do on holidays.
Spend a day helping your adult kids decorate their homes or have them over to your home to help decorate, serving them homemade cookies and hot cocoa.
Start new traditions. Often our kids are just as overwhelmed and anxious as we are when that first Holiday comes around and the normal way of doing things has changed. Gently ease their minds that it's okay to feel that way but it's also a great time for them to create new "normal" traditions.
Use technology to your advantage. If you know you're not going to be able to get together for the holiday, use technology to your advantage. Skype, Zoom and othernew technology are all great ways you can gather the gang together  at the same time. No, it's not the same as being there in person, but just seeing them and talking to them can ease your heart a little. And you can always plan a live visit to each other on another day.
Respect their ideas. And ask them to respect yours as well. talk to your kids about their plans for the Holidays. If they're married get the opinions of both spouses not just your child's. Having sons, I have learned to defer to the daughter in laws first. They have usually already discussed the Holiday plans with their own mothers and want to try to work around those plans to do what is best for all.
Don't be such a stuck in the mud that you can't change or move your plans to a different time or day. Listen to what they suggest. Maybe having dinner and gift exchanges would be better on Christmas Eve morning for brunch instead of that evening or on Christmas day. Or if they have little ones, celebrating Halloween on the weekend before might suit better. Maybe they can come for Thanksgiving and share Christmas with the other parents.
Celebrate with Friends. If getting together during the holidays just doesn't seem to work out, create your own celebration with friends. Love Halloween parties? Throw your own adults only party. Want to have a formal sit-down Thanksgiving? Invite other empty nester parents to join you. Spend the Christmas season volunteering at a local children's home or homeless shelter.
Holidays don't have to become a time of frustration, anxiety and depression for the empty nester. In fact it's a time to celebrate the joy of seeing your adult kids. And if you are having a hard time with the changes happening in your life, just remember— you did the same thing to your parents when you moved out! Think about that and how they must have felt 😉 .
Want to connect with other empty nesters surviving the holidays with adult kids? Join me on Facebook.